Massage
Our Swedish, Refreshing, Therapeutic, Relax, Cellulite massages are performed on comfortable massage beds, with the option of a double room for couples.
The masseur refreshes the body with smoothing, rubbing, vibrating and kneading movements. The physical and neurohormonal effect of the massage promotes the healing of possible diseases.
Ultrasound Cavitation
The Radio Frequency (RF) Body Contouring is excellent for treating cellulite, loose connective tissue, removing fat pads, improving lymphatic circulation, and reducing edema.
The Radio Frequency (RF) Body Contouring is a (non-surgical) intervention in which high-powered ultrasound waves create micro bubbles within the fat cells of the treated area.
Lipolaser
Lipo laser is a non-invasive (no cutting, no needling) intervention, which was developed to combat local fat tissue that is difficult to reduce.
It penetrates the fat tissue through the skin, during which small pores open, through which the content of the fat cell, which is water, triglycerides, and free fatty acids, escapes.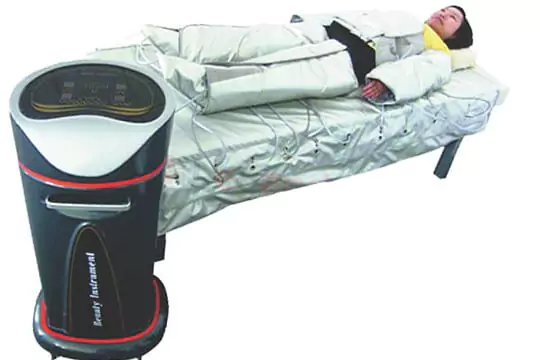 Machine Lymphatic Massage
It is also called wave massage. The physiological processes of the human body are regulated by blood and lymph circulation. The satisfactory functioning of the lymphatic and venous system largely depends on the movement of the muscles, as they help the movement of lymph and blood in them. The wave massage is a lymph massage with multiple effects of the traditional manual lymph massage.
Wiener Body Wrap
The ideal combination of aromatherapy and roll bandage method. It is a natural and extremely effective way to lose quite a few centimeters from the outline of your body and lose weight where you want, and at the same time smooth out and beautify your skin, which may even suffer from cellulite problems.
Wellness
We offer a wellness experience for up to 10 people with the possibility of renting it by the hour. In our room designed for this purpose, a 6-person Jacuzzi and a 6-person Carbon Infrared Sauna with Salt Therapy await those who want to relax.
Among its many positive effects, the fact that we can spend quality and pleasant time with our friends and our loved ones.